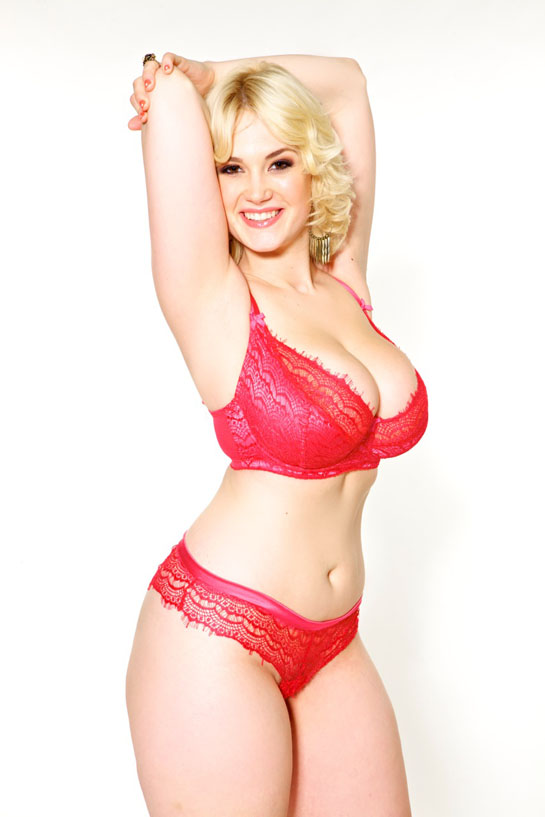 1) Obvious question: What's your boobs size?
32HH! And all natural. That's the best part. ;)
2) Define yourself in a few words
Horny, empathetic, intelligent, stubborn.
3) When did you start modelling and why?
February 2012. My goal was to make a career for myself as an adult film star, and my husband and I moved to LA from Texas in February in order for me to do that. I jumped right in and I've been loving every minute of it since.
4) What do you like most and least about the adult industry?
I love my work and I love the people. I've met so many awesome people, and I include my own fans in that statement. The fans are everything in this industry. I love their support! What I dislike is the rampant piracy of adult content. Everyone I know who runs their own site has to watch their back for people stealing their content and putting it on tube sites. Contrary to what most fans might think, it's hard to make a living in the industry, and the reason for that is there's so much pirated free stuff. It's like people don't think porn is worth paying for. Well, in my opinion, if you like me and you like watching me have sex, then you should think it's worth paying for! We all just want to make a living doing something we enjoy.
5) What is the best and the worst thing about having big boobs?
The best thing is showing them off. And getting felt up all the time. I am such a slut for that, haha! The worst thing is wearing such an outrageous bra size that only a handful of companies produce bras that fit me, and they're really expensive.
6) Do you realize that people stare at your boobs when you go out?
Yes, and I like it! I love them, and I have no shame in that department… why shouldn't other people enjoy getting an eyeful of my boobs?
7) What's your favourite word for boobs? And the least favourite?
Tits. I actually hated the word «tits» and refused to say it until I was about 18 years old. Which is probably why I love it so much now. TITS!
8) Do you have problems when buy bras?
I think my answer about the worst thing about having big boobs also answered this question. So, in short, yeah!
9) What's your favorite part of your body?
My boobs! Surprise! And my face. If that counts as a «body part,» haha.
10) Your favourite food? And drink?
I love Indian food. And tacos. For a drink I like coconut water. But if we're talking alcoholic drinks, that would be a margarita or glass of Cabernet Sauvignon.
11) What's your favourite colour?
I like them all. I go through phases with liking some more than others. But I've generally always liked red and turquoise the best.
12) What's your favourite clothes?
Anything that makes me feel super classy, like Marilyn Monroe, or like I could totally kick some fucking ass. I'm a Gemini, which means I have a dual personality, including in the way I dress. Haha!
13) When it's your birthday?
June 20th.
14) Do you know any words in Spanish?
Escribo español bien… estudié español en universidad pero lo hablo raramente hace que terminé mis estudios. Como se dice «rusty»? Haha. How was that?
15) Any links? (web, twitter, facebook… whatever you want!)
Mi official site: www.siripornstar.com
Twitter: https://twitter.com/SIRIpornstar
Clips4Sale: www.clips4sale.com/56567
16) Any words to your fans?
I love you all! I love hearing from you and I love your support. Please read my blog and tell me what you think, and ask me questions. If you like what I do, let production companies know. Write to them and ask to see me in more scenes. Fans showing how much they love me is what keeps me working and building my career. And one day, with enough support, my tits will take over the world! :D
---
These pics are submitted by Siri as part of the interview