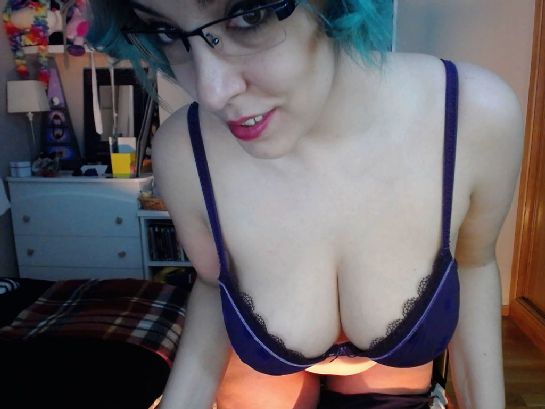 1) Obvious question: What's your boobs size?
I always says 110 but actually is a 85D (Note: Spanish size. It's like 36D in US)
2) Define yourself in a few words
I never define me by myself, I let other people do.
3) When did you start modelling and why?
At 22 years old with an argetinian friend on MSN messenger. Also, I recorded videos and took photos.
4) What do you like most and least about the adult industry?
I love variety has no limits. I hate that almost all the porn is made for men. Women should learn that they can enjoy with porn too and more producers of porn for women should be created
5) What's the best and the worst thing about having big boobs?
You can play with them and they are soft and bounce like flans. Worst is not finding cute bras of your size
6) Do you realize that people stare at your boobs when you go out?
Too many… especially in summer. I'd like to collecting drool with a bucket.
7) What's your favourite word for boobs? And the least favourite?
I love the word pechos but only because I find sensual the CH sound. I hate senos because it seems it's the name for the operated ones
8) Do you have problems when buy bras?
Yes, as I stated before
9) What's your favorite part of your body?
My eyes are unique and I can say a lot with them
10) Your favourite food? And drink?
A good chees and ham sandwich and my Pepsi Max
11) What's your favourite colour?
Orange
12) What's your favourite clothes?
Socks and knit caps. I have thousands of them
13) When it's your birthday?
October 11th
14) Any links? (web, twitter, facebook… whatever you want!)
https://twitter.com/ladysusurro
https://ask.fm/LadySusurrocdt
http://instagram.com/ladysusurro
15) Any words to your fans?
You get that amuses me so much doing what that I don't consider it a job.
---
These pics are submitted by Lady Susurro as part of the interview