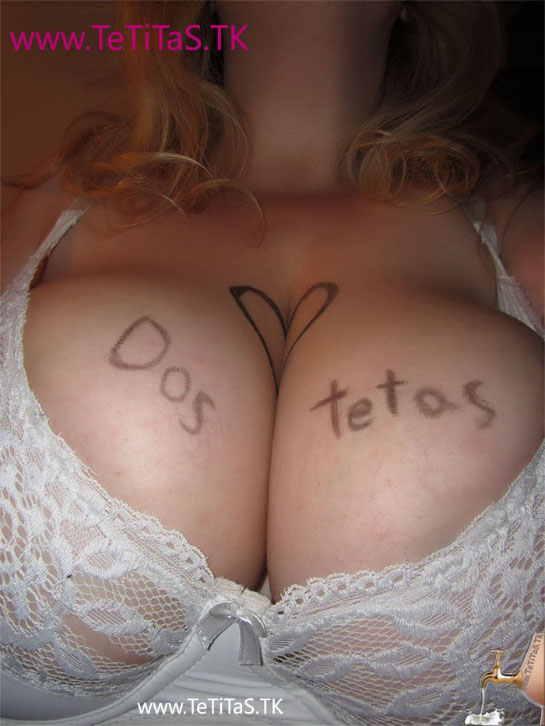 1) Obvious question: What's your boobs size?
120 D cup (cup size is very important ;P) (Note: Spanish size. It's like 46D in US)
2) Define yourself in a few words
Funny, crazy, busty ;P
3) When did you start modelling and why?
About 4 years ago ;P because I wanted to do something I like it to earn money and not to depend on anybody ;P
4) What do you like most and least about the adult industry?
I like being part of it and the least I like, well I don't agree lots of things, but everybody is free es libre provided they're respectful
5) What's the best and the worst thing about having big boobs?
Best hihihi, if you know how to use them, you get what you want, wirdt, hahaha, it's hard to shave myself down there, hahaha CAN'T SEEEEE ;P
6) Do you realize that people stare at your boobs when you go out?
Yes, hihihi, is funny
7) What's your favourite word for boobs? And the least favourite?
TeTiTaS hihihihi, least favourite, mmmm, melons ;P
8) Do you have problems when buy bras?
Loooooooots, since young, I spend lots of money, once I spend €90 in a bra, that's crazy, after that, it opens some chain stores in Santander where it has small variety hihihi and was very helpful, but sometimes I don't fin bras.
9) What's your favorite part of your body?
Boobies hihihi
10) Your favourite food? And drink?
Pasta, for drink, basically water and something an iced tea (can't say brands ;P)
11) What's your favourite colour?
Blue hihihi
12) What's your favourite clothes?
Dresses with cleavage ;P
13) When it's your birthday?
May 27th, month of flowers ;P
14) Any links? (web, twitter, facebook… whatever you want!)
My web, www.TeTiTaS.TK or my e-mail tetitas.tk@gmail.com it's that I use most. Also skype to do nasty things hihihi: tetitasdeleche.tk
15) Any words to your fans?
Well, I have some hihihi thank you very much for following me and I hope keep on long time and over all things, don't change ;P