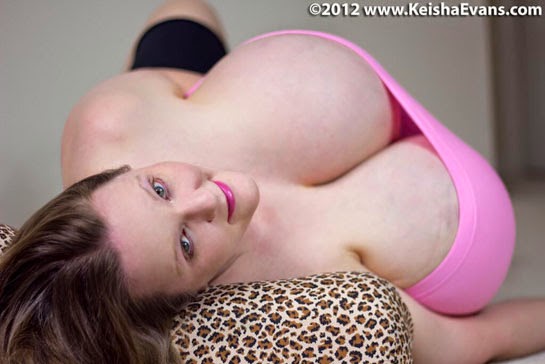 1) Obvious question: What's your boobs size?
Haha. Yep, that would be an obvious question. My rib cage is 26 inches (66cm) around underneath my tits, my breasts measure 59.5 inches (151.13cm). This gives me a 29.5 inch difference, which would be a cup size out of the alphabet, lol. So maybe my bra size is a 30ZZZZ? I just buy the largest bra and cupsize I can find and cut them down to a close band size. None of them ever fit me right. The cups are always tight and tricky to tuck myself into. I need to find a personal seamstress, lol. As far as my implants, I have 6000ccs per breast. They weigh in at about 25 pounds or a little over 11 kg.
2) Define yourself in a few words
Silly, sexy, fun loving
3) When did you start modelling and why?
I started in 2003 because I wanted to share my breast adventures with likeminded people. It's more fun knowing others are enjoying it as well.
4) What do you like most and least about the adult industry?
The best thing would be all the open-minded people. Those in the industry don't judge you poorly for showing off your body. Sex is fun and enjoying sex should be allowed to be fun too. The worst would be the stigma that goes along with being in the adult industry.
5) What's the best and the worst thing about having big boobs?
The best thing is that, holy crap, I have big boobs! I enjoy everything about them. There really is nothing bad about having huge tits, unless, of course, you count not being able to see my feet, lol! But I consider that an awesome side effect of having huge breasts.
6) Do you realize that people stare at your boobs when you go out?
It's hard NOT to notice.
7) What's your favourite word for boobs? And the least favourite?
Ooooh, too many to choose from! Let's see…my favorite would be funbags As far as least favorite, I don't really have one.
8) Do you have problems when buy bras?
Yep! Like I said above, they just don't make them in my size. I had a friend who sent me some of those Genie bras they saw on T.V. and I couldn't even fit one tit into them, let alone both! One size fits all, lol!
9) What's your favorite part of your body?
My breasts!
10) Your favourite food? And drink?
Pizza! As for drink, I drink mostly water and I love it!
11) What's your favourite colour?
Used to be blue, but pink is a close second.
12) What's your favourite clothes?
I am definitely a jean and t-shirt kinda girl, although I love to dress up, too.
13) When it's your birthday?
May 14th
14) Do you know any words in Spanish?
Sí, ya sé muchas palabras en español.
15) Any links? (web, twitter, facebook… whatever you want!)
http://www.keishaevans.com, https://twitter.com/keishaevans
I have/had a MySpace and a Facebook account, but they get shut down a lot.
16) Any words to your fans?
I love you all!