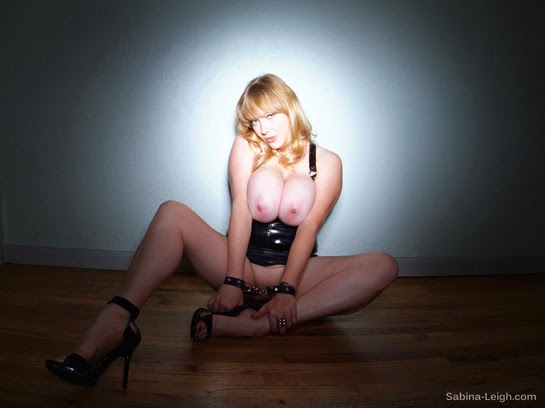 1) Obvious question: What's your boobs size?
My boob size shifts around a bit. Today I'm probably a proper 36I because I'm wearing a 36H at the moment and my boobs keep squeezing out over the top.
2) Define yourself in a few words
I'm an all natural big boobed model, performer, editor and sexual educator.
3) When did you start modelling and why?
I started doing adult modeling in 2006 because I wanted to see what it was really like behind the scenes. I had been studying feminist porn theories in college and was curious to see what the experience was really like.
4) What do you like most and least about the adult industry?
What I like most is the freedom of expression, and oh yes, the orgasms. Those are pretty good too. The thing I like least are the shifty people you have to navigate around in the industry.
5) What's the best and the worst thing about having big boobs?
There is a good amount of power that comes with having big boobs. But it can also work against you in some circumstances such as when you need people to look you in the eye and take you seriously. And of course, there is the back pain. I require constant massaging.
6) Do you realize that people stare at your boobs when you go out?
I don't usually notice it. I think I learned to block it out many years ago so I could get on with my life. Its usually other people who tell me someone was checking out my rack. Or maybe I just always have my head up my ass.
7) What's your favourite word for boobs? And the least favourite?
I like good ol' fashioned 'tits', short and sweet. I most dislike the term 'tig o' bitties' because I was tormented by the phrase all through high school.
8) Do you have problems when buy bras?
Its a science, buying bras when you've got tits this big. Anymore I just order them in from Europe because American suppliers don't have much in the way of selection.
9) What's your favorite part of your body?
Well, that really depends on the day. Sometimes I'm having a good boob day, and I feel like I'm working those. And then other days I may like my eyes or legs more.
10) Your favourite food? And drink?
I like bacon and micro brew beers most.
11) What's your favourite colour?
Green, always green
12) What's your favourite clothes?
I love to wear little short summer dresses with a lot of cleavage.
13) When it's your birthday?
March 1st. I'm a Pisces.
14) Do you know any words in Spanish?
I took a couple years of Spanish in school, but never got to use it much and forgot most of it. I can read very basic spanish, like children's books.
15) Any links? (web, twitter, facebook… whatever you want!)
Please check out my brand new website at www.sabina-leigh.com. Its been a long time in the waiting.
Also check me out in these other places:
http://clips4sale.com/studio/18058/
http://sabina-leigh.com/wordpress/
https://twitter.com/Sabina_Leigh
https://fetlife.com/users/2543411
http://sabinaleigh.tumblr.com/
http://www.youtube.com/user/SabinaLeighModel
https://www.facebook.com/pages/Sabina-Leigh/298362160308246
16) Any words to your fans?
I love my fans so so so much. I wouldn't be able to do any of this without their kind words and support. Hugs and kisses to all of you out there.
---
This pic is submitted by Sabina Leigh as part of the interview