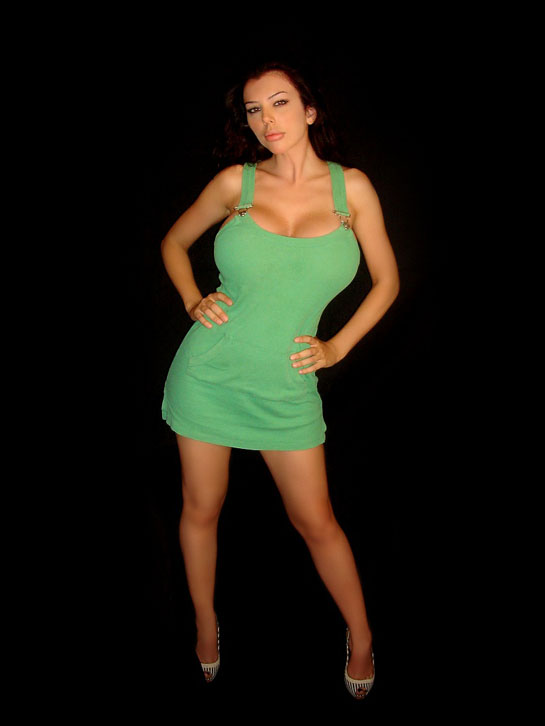 1) Obvious question: What's your boobs size?
I have 1500cc implants, my bra size is 32H. If anyone wants to make me a gift, my favourite brand is Ann Summers :)
2) Define yourself in a few words
Nice, sympathetic, cheerful, very generous and animal lover
3) When did you start modelling and why?
A couple of years ago a photographer friend of mine offered me to pose, and since then I've done a few things. Today my dream would be to make a living as erotic model
4) What do you like most and least about the adult industry?
What I like the most is the erotic and sensual part, how some photos can transform a woman to make it beautiful
I don't like the explicit part, the hardcore. I prefer a thousand times to suggest, to play with the imagination, rather than pornographic part
5) What's the best and the worst thing about having big boobs?
The best? Everything! I love having big boobs It's amazing. I find nothing wrong with it.
6) Do you realize that people stare at your boobs when you go out?
I would lie if I said no. Often people stare, even when I go dressed discreet, and that can be very uncomfortable. Specially, women. And I don't understand it, if you stare so much, if you want to have boobs like mines, operate!
7) What's your favourite word for boobs? And the least favourite?
I love the word megaboobs. And least… dunno. Mini-boobs? :)
8) Do you have problems when buy bras?
Wow, a lot! Luckily, there is internet and online shopping. Many times I buy them, but I have a small back, I need to fix them
9) What's your favorite part of your body?
May sounds weird to you, but is my belly button :)
10) Your favourite food? And drink?
My favorite food is cocido (spanish stew) maybe you expected something more glamorous. And my favorite drink is Coke, so I'm very normal.
11) What's your favourite colour?
Green like Granny Smith apples
12) What's your favourite clothes?
Thongs!
13) When it's your birthday?
April 20th
14) Any links? (web, twitter, facebook… whatever you want!)
My twitter is https://twitter.com/DanaLeon1500 my web is under construction, I'll give you the link when it's finished.
This is my model profile: http://www.modelmayhem.com/danaleon
An this a mobile app who will be releasen soon, so everybodybody can play with me: http://www.youtube.com/watch?v=39vyuGe8fgo
15) Any words to your fans?
Sure! Hope you like me, hope you like what I do and the ideas I have for photosets and games. You will soon see many pictures with my new boobs, although I have showed some pics on Twitter. It's very important your opinion for me.
Oh! Another thing, I make photosets and personalized custom videos, exclusive content, only for the eyes who requested it. If anyone is interested I have this mail for requests: danaleoncustom@gmail.com. Please only people that are really interested.
Thank you for this opportunity to introduce myself!
Kisses. Thanks for the interview.