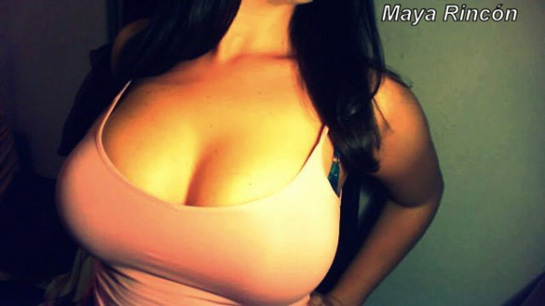 1) Obvious question: What's your boobs size?
Obviously they're very big. Size 105C (Note: Spanish size. It's like 40C in US)
2) Define yourself in a few words
Honest, fun, outgoing, natural and humble. Oh, and very horny, xD.
3) When did you start modelling and why?
About when I was 15, when I have internet and IRC in my home. It was simply for the curiosity and because after seeing other people like my body, my ego was huge and I love and I still love that feeling of knowing that people likes you, desires you. The day that I don't desire me or my body definitely will leave this.
4) What do you like most and least about the adult industry?
I like everything, but I don't like hypocrisy, falsity and envy from certain groups and people but… I don't care about people
5) What's the best and the worst thing about having big boobs?
Best is when people on the street looks me exaggeratedly and how much you can flirt, even if you're a bit Mordor's orc, XDDD… Worst is when sometimes you're not in the mood and for example you go to school or to the shop and some cheeky weirdo starts to do lasivious gestures and well… I feel harassed at some point in my life, but I think it's not my boobs fault. It's people who are fucked up xD
6) Do you realize that people stare at your boobs when you go out?
Yes
7) What's your favourite word for boobs? And the least favourite?
Dunno, sometimes I use some random words like mamellas. Least, dunno… ubres (udders)… ¬¬ xd
8) Do you have problems when buy bras?
Yes, in certain shops. In Primark for example, biggest bra is small to me
9) What's your favorite part of your body?
Beleieve or not, my eyes. Then, my boobs
10) Your favourite food? And drink?
Sushi and coke zero
11) What's your favourite colour?
PINK :_)
12) What's your favourite clothes?
Jeans
13) When it's your birthday?
November 6th
14) Any links? (web, twitter, facebook… whatever you want!)
My twitter is https://twitter.com/MayaRincon_ with underscore. Also I have my new blog. It's new, so I don't have many things: http://justmayarincon.blogspot.com.es/
15) Any words to your fans?
Hello