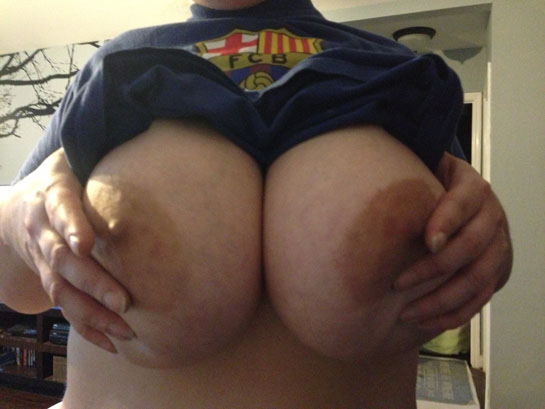 1) Obvious question: What's your boobs size?
38FF – Real !
2) Define yourself in a few words
Proud to be busty, protective of my anonymity but happy to flaunt
3) When did you start modelling and why?
I Started posting pictures of myself on Twitter about 18 months ago
4) What do you like most and least about the adult industry?
She doesn't answer this question
5) What?s the best and the worst thing about having big boobs?
Finding clothes that fit, I'm very top-heavy.
6) Do you realize that people stare at your boobs when you go out?
Oh yes, some people are very obvious, but I take it as a complement.
7) What's your favourite word for boobs? And the least favourite?
Favorite = boobs
Least = jugs
8) Do you have problems when buy bras?
Yes, I like pretty bras, Victoria's Secret is my favourite but the biggest I can get in the bras I like is a 38DDD, so I have to squeeze my boobs in
9) What's your favorite part of your body?
Boobs
10) Your favourite food? And drink?
Food = Tex/Mex
Drink = Beer
11) What's your favourite colour?
Blue
12) What's your favourite clothes?
Casual, I'm a business professional and the first thing I do when I get home is take off my bra and get in my comfy clothes
13) When it's your birthday?
August
14) Do you know any words in Spanish?
Dos Ceveza por favor
15) Any links? (web, twitter, facebook… whatever you want!)
http://www.pheed.com/bustymilf1
16) Any words to your fans?
Thanks for following me, I appreciate every single one of you, keep following and keep saying nice things.