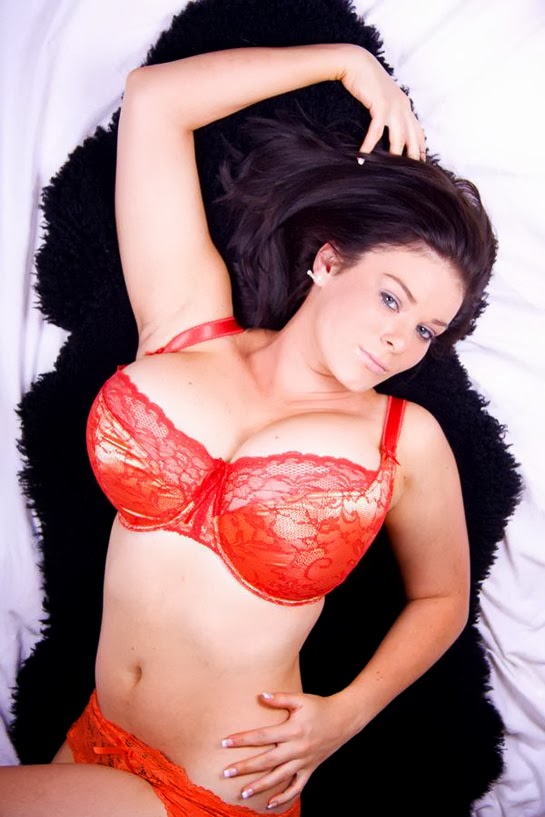 1) Obvious question: What's your boobs size?
My Bra size is 30 J uk size
2) Define yourself in a few words
I would say I am a bubbly character, always smiling, cheeky, mischevious and flirtacious
3) When did you start modelling and why?
I first started modelling at the age of 19 for a amateur photographer who wanted to build up his portfolio. I started off doing fully clothed potraits then I grew the confidence to work to a Glamour level.
4) What do you like most and least about the adult industry?
I love travelling the world and meeting new inspiring people. There's 3 things I least like: 1= Being referred to as a pornstar when I am a Glamour Model only! 2= Men being rude and vulgar (sending me rude tweets & messages) 3= Having bad pictures produced of me =(
5) What's the best and the worst thing about having big boobs?
The best thing is being able to manipulate men! They tend to do anything a girl asks when a girl has big boobs. The worst thing about them is trying to find nice sexy clothes and Lingerie that fit properly, I find this really hard!
6) Do you realize that people stare at your boobs when you go out?
My boobs get a lot of attention when I am out, but I use them to my advantage (manipulate men) and make them look silly infront of their friends hehehe!
7) What's your favourite word for boobs? And the least favourite?
I prefer the words boobs… I think tits sounds really rude, makes me cringe a little =/
8) Do you have problems when buy bras?
Yes I do. Bra's in my size are very expensive and it's hard to find the perfect fit. They are not stylish and sexy at all =( I find it easier shopping for smaller,sexy bras for my photoshoots which show loads of cleavage ; )
9) What's your favorite part of your body?
I love my eyes!! I think my eyes say a thousand words without having to speak. I sometimes mesmerise myself when I look into my eyes on my pictures.
10) Your favourite food? And drink?
I don't have a particular favorite food but I do love Bacon sandwiches =) I also love Italian food as I am a big lover of Garlic.
My Favorite drink is water, I find it really refreshing. I have a few favorite alcoholic drinks; Southern Comfort & Lemonade, Bacardi & coke, Vodka & Red Bull, and Dry Martini with Lemonade. I do enjoy a glass of white wine too… My favorite is liebfraumilch.
11) What's your favourite colour?
My favorite colour is Black.
12) What's your favourite clothes?
I like sexy clothing that is short and clingy so it shows my body shape. I also love my comfy clothes such as tracksuits =)
13) When it's your birthday?
My birthday is 18th of July I am a Cancer star sign.
14) Do you know any words in Spanish?
I know a few basic words in spanish. I travel often to spain.
15) Any links? (web, twitter, facebook… whatever you want!)
My website is launching soon so I will keep you informed. For now I only have my Twitter: www.twitter.com/x_karlajames_x
16) Any words to your fans?
Just a big Thank You to everyone who supports me, I am currently auctioning off my lingerie sets and other goodies via my Twitter (all procedings are going towards my website) Please help me out and bid =)
Extra question suggested by Karla James
17) Who is your Idol?
Glamour Model/Business woman- Katie Price
---
These pics are submitted by Karla James as part of the interview