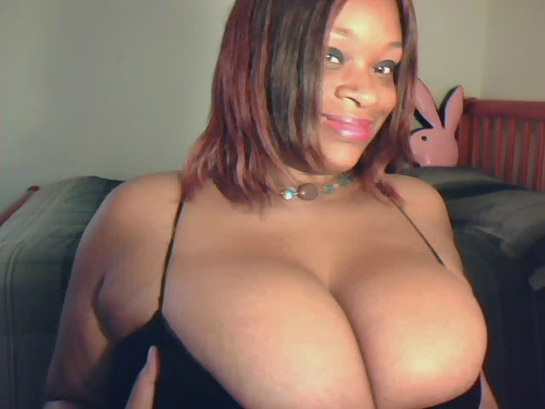 1) Obvious question: What's your boobs size?
My breasts are 44HH all natural!, extremely rare and hot!
2) Define yourself in a few words
I was a topless dancer..got in a bad car wreck..i' ve always been a model:)
3) When did you start modelling and why?
2001 i discovered webcam modeling
4) What do you like most and least about the adult industry?
Discrmination..sorry telling the truth..very hard for a black woman to actually get too the top!, but i love i can do my own thing and work my own hours
5) What's the best and the worst thing about having big boobs?
my big boobs kills my back, best thing i get what i want:)
6) Do you realize that people stare at your boobs when you go out?
yes! i love the stares
7) What's your favourite word for boobs? And the least favourite?
i love the word titties, and least favorite heavy hangers
8) Do you have problems when buy bras?
yes no bra size fits me..unless there special order,I always have trouble buying bras because nobody in my town carry a 44hh bra:)
9) What's your favorite part of your body?
My favorite body part..my big real tits..sorry i actually love my entire body i love all of me..lol
10) Your favourite food? And drink?
my favorite drink tequila, favorite food,japanese,asian,and sausage pizza!
11) What's your favourite colour?
blue is my favorite color but also love orange and black:)
12) What's your favourite clothes?
i love lil tops
13) When it's your birthday?
My bday is september 21st
14) Do you know any words in Spanish?
Yes i know spanish mula mula..lol:)
15) Any links? (web, twitter, facebook… whatever you want!)
My links ESSENCELARUE.THUMBLOGGER.COM
16) Any words to your fans?
Thank you for all your love & support my fans fucking rock!!